Leading the Charge: Inspiring Physicians of Tomorrow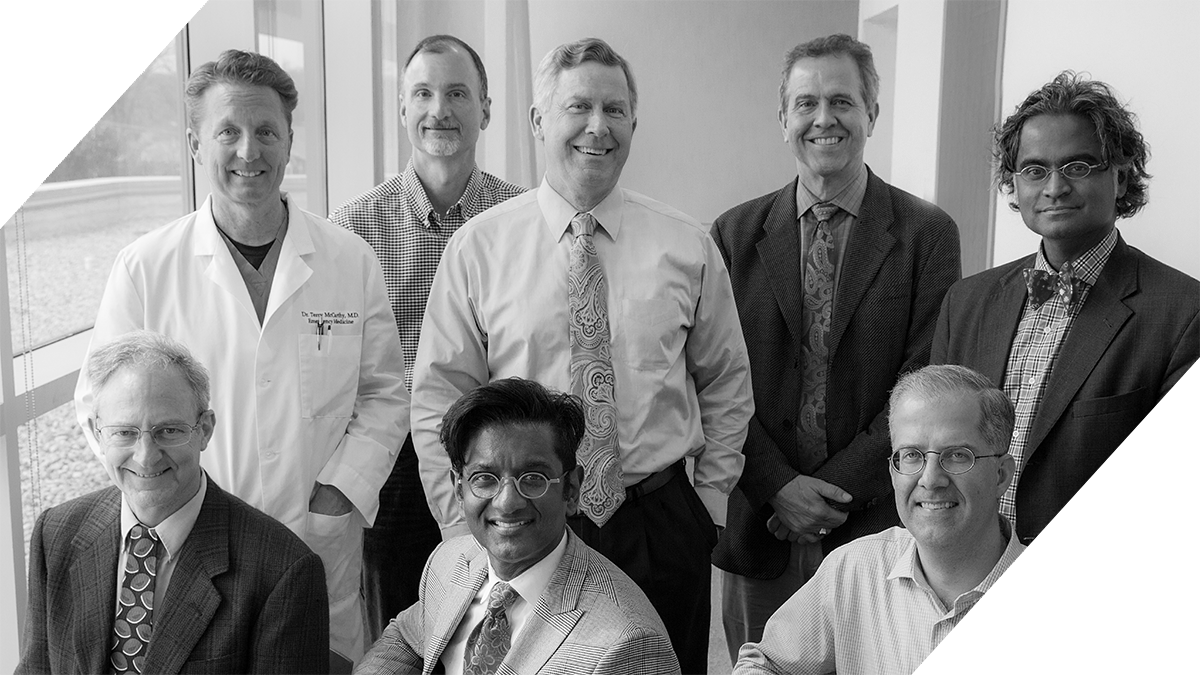 In a nondescript building in the center of the bustling Fort Worth medical district, patients wait to be seen by one of the city's premier cardiologists.
There's no signage to alert passers-by of what's happening – just a big, red heart on the door signifying the core values of the physician inside.
Mohanakrishnan Sathyamoorthy, M.D., FACC, is a professor and academic chair of the Department of Internal Medicine at the new TCU and UNTHSC School of Medicine.
To his patients and students, he's Dr. Mo.
With his trademark bow tie, Sathyamoorthy is known for taking time to listen to his patients, explain procedures in detail and build relationships with every person who walks through the door – traits that align well with the mission and vision of the Fort Worth medical school, a partnership between TCU and UNTHSC.
"Dr. Sathyamoorthy is a perfect fit for our medical school. He has a stellar reputation as a physician and scientist, being a role model in both areas for our students and faculty, and he offers a robust national network of peers to our school," said Stuart D. Flynn, M.D., dean of the TCU and UNTHSC School of Medicine. "His leadership, passion and vision for training future physicians and his drive for excellence fuel our school and ensure our students will have excellent mentors and training."
The medical school welcomed its inaugural class in July, and the 60 students have enthusiastically embraced the journey to become Empathetic ScholarsTM. The forward-thinking curriculum includes communication skills training embedded through all four years, no lectures, active learning and flipped classrooms where reading and videos are watched at home and students come to class for discussions and application sessions. The students are also introduced to new technology such as virtual reality, genomics, biomedical informatics and artificial intelligence.
Sathyamoorthy was attracted to the school because of its unique curriculum and the opportunity to have a direct impact on the way future physicians are trained.
"This fantastic new medical school is unique in American education. Our goal is to create an environment that completely focuses on the excellence of education for the students," Sathyamoorthy said. "We inspire our students not just to be knowledgeable in medicine, but also to do so in the most empathetic fashion possible."
In his role as an academic chair, Sathyamoorthy oversees faculty recruitment and retention in his department, advances its educational and research mission and represents the school within the community and greater medical field.
"Over time, we hope our medical school will elevate the academic profile of TCU, both nationally and internationally, and attract faculty who will see this model of medical education as transformative," Sathyamoorthy said.
Sathyamoorthy earned his bachelor's degree in biomedical engineering and a master's degree in engineering from Johns Hopkins University, during which time he pursued research in finite element biomechanical modeling of the heart. He earned his M.D. with Distinction in Research from the SUNY Stony Brook School of Medicine, where he was honored at graduation with the Award for Outstanding Achievements in Research and The Citizenship Award for Outstanding Contributions to the School of Medicine.
Currently at Baylor Scott & White All Saints Medical Center, Sathyamoorthy serves as chief of the medical staff and chief of the Cardiovascular Division.
At the community launch of Lead On: A Campaign for TCU, Sathyamoorthy urged community members to support the important mission of both TCU and the school of medicine: "Your support of this campaign will really help transform lives, help transform health, and frankly, help transform the entire health care landscape for the city of Fort Worth and beyond."
Just like with his patients, Dr. Mo leads on with his heart.