Leading the Change: Celebrating Differences and Changing the World through Children's Books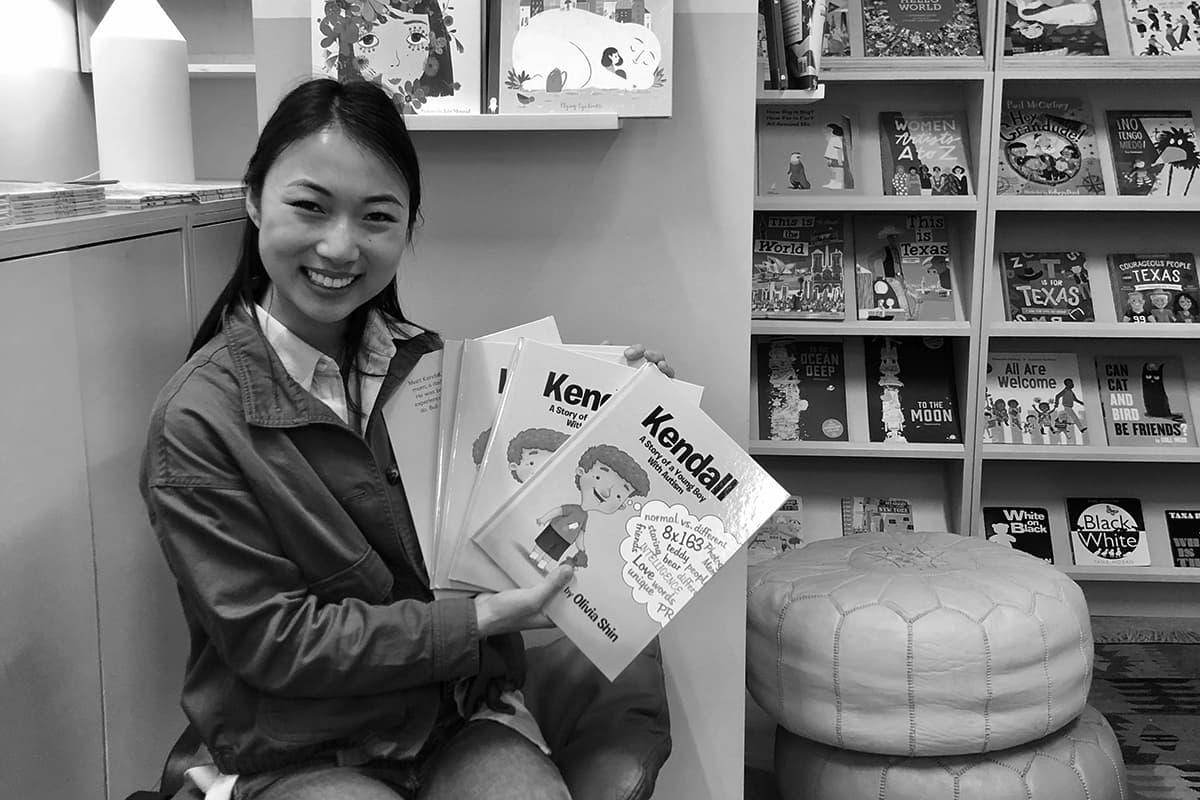 Liv Shin, a strategic communication major, has already left her mark on the Horned Frog community, and her college career isn't over yet.
Shin is a published children's book author with three titles to her credit: Ezra: A Story of a Young Boy with Blindness, Kendall: A Story of a Young Boy with Autism and Naomi: A Story of a Young Girl with Osteogenesis Imperfecta.
She says the goal of her stories is to remove negative stigmas associated with the word "disability" and to create a more inclusive world of understanding. Shin is enthusiastic about telling stories of disabilities that readers may not understand. For example, Osteogenesis Imperfecta is a genetic disorder in which bones fracture easily.
Inspiration in the Classroom
Shin spent her early years in New Jersey before she and her family moved to Oregon during her fourth-grade year. She says after moving, she noticed a significant difference in how school systems across the country treat students with disabilities.
"In New Jersey, I always wondered about the classmates who left to go to special rooms and never came back until the end of the day," she said. "On the other hand, schools in Oregon always had these students coming in and out of the classroom so that they could be part of as many activities as possible, despite their specialized learning track."
"This is when I became inspired," Shin said. "I decided to combine my passion — kids and teaching — and skills — writing and creativity — to write a children's book."
Now, she is writing a fourth book. This book promotes general inclusivity rather than awareness about a disability. The story will be about COVID-19 through the eyes of a child, inspired from conversations she had with a young boy she babysits.
Planning for the Future
Shin credits her TCU classes and professors for supporting her book projects and helping her rebrand her business. She plans to illustrate her fourth book herself, and she says she has the strategic communication department to thank for equipping her with design skills that will help her create book illustrations.
Shin says professors taught her the importance of naming her goals, objectives and visions. Her studies opened her eyes to the negative aspects of the advertising industry — a place Shin wants to lead on. "I want to make sure that I am actually promoting something that I am very much supporting and changing the world in a positive way."
A diversity course taught by Karen Lindsey, Ph.D., a lecturer in strategic communication, has been one of Shin's favorite classes at TCU. She says the class prepared her for today's world. "Lindsey did a phenomenal job teaching about events that are happening literally at this moment. It was such an applicable class. It really touched my heart and also taught me so much."
Lindsey also spoke highly of Shin. "As a student in my diversity class, Liv was profoundly curious about ways in which we normalize behaviors and embrace differences," Lindsey said. "Liv's stories are even more important to our society as we reflect on social justice and mark the 30th anniversary of the Americans with Disabilities Act. In conversations with Liv about her books and inclusion, I was always impressed with her curiosity and desire to normalize different ways of seeing and being in the world."
As Shin completes the last year of her undergraduate career, she plans to make the most of it. Her advice to future Frogs: "Be pushy. Look for opportunities. Seek help. Run with your ideas. Don't give up."